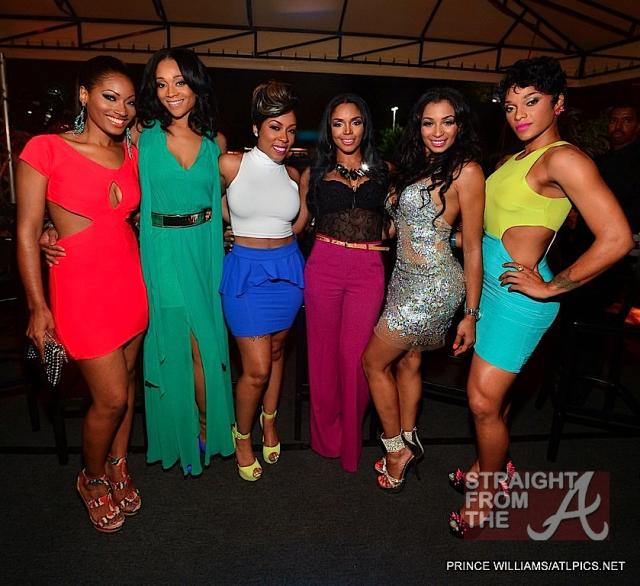 07/08/2013
Lawdy – tonight's episode was a trip. It really was Turnt Up!!!
1) Joseline, I like Stevie J too, but he is not going to marry you.  Did you all see the doubtful look on his face when the hugged?
2) Momma Dee did what she was supposed to do – offer financial  help to Erica for the grand baby. Erica, why you falling into that trap by selling the ring? That's what momma dee wants. You should not had taken that ring to the pawn shop. So, not cool. Did you see how momma dee said, go ahead pawn it? Like she was saying, go ahead make my day.
3) Drew you are not attractive. Go sit down. You been stringing this lady along for seven years. Now you see her with someone else, all of a sudden, you love her! A typical male. Now, there is no way in hell that I would agree to have dinner with my ex and my present. We will see what happens next week!
4) Ariana, stick to singing in e church choir. But, your hair is layed.
5) Ghetto ghetto ghetto and more ghetto. What is Erica's mom wearing? A too small halter shirt? Where they do that at? The GHETTO.   Erica, scrappy was just doing the manly thing, holding your ghetto ass mom back. You should not had but in. Get up and brush your dress off. If you going to call the police on somebody already on paper, what you going to pawn next? And , I don't blame scrappy for getting upset with you when you told him you pawned the ring. You should had known then to not get in his path after revealing some punk ass news like that!!!
6) Traci, you should not told Rasheeda that. What you should had done, was confront Kirk right when the incident occurred.  But, since you did mention it to her, why leave?? That's the time to stay and help kick his ass!!!
7) Kirk – no comment. There aren't enough words.  But, you see he ran in house and then locked the door. Where they do that at! ?
8) Rasheeda -waiting to exhale! Burn burn burn it up!!!
Until next week! Love ya!
Sa Presto
{buzz-post}{buzz-follow}